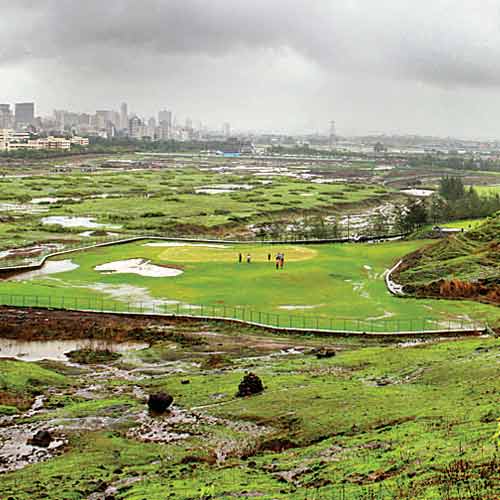 Nine months after City and Industrial Development Corporation (Cidco) inaugurated the Kharghar Valley Golf Course, game enthusiasts and residents have claimed that it is a "dead investment" and the planning agency is doing nothing to promote the game.
Though they say the sporting facility is well-maintained, they feel that it is of no use as the planning agency has failed to attract people to play a round or two at the golf course. "Cidco had stated that it will be developing a club house and come up with membership scheme. But no development has been witnessed on this front since December 23, 2012, when the course was inaugurated. The only positive thing that has occurred is that Cidco announced "pay and play" schemes," said Ravi Shrivastava, a Kharghar resident.
According to the scheme, if a player wants to tee off at the facility, he has to pay Rs500 on weekdays for one round of the golf that generally lasts for around three-and-half hours, while on weekends the charges are Rs750 per head. "Cidco is only trying to make money by announcing such schemes while its plans to organise a tournament or hold camps for beginners remained merely on paper," Shrivastava added.
Cidco has spent Rs38 crore so far on developing the golf course.
Stating that holding of tournaments will not be possible at the facility since it is a 11-hole and not an 18-hole course, director of Mumbai-based Golfnext Golf Academy and founder member of Maharashtra Golf Association, Suresh Nanda, said, "Of the 11 holes, two are driving ranges and it is not possible to conduct any tournament."
A senior Cidco official, not wishing to be named, said: "We will develop the club house and come out with the membership scheme soon. Also, we have got the affiliation of the Indian Golf Union and are in a position to conduct tournaments at local level though we can not hold international meets till all our 18 holes are ready," he added.
Article Source:
http://www.dnaindia.com/mumbai/report-kharghar-valley-golf-course-a-dead-investment-enthusiasts-1897474